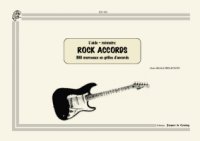 NOUVEAU:

COLDPLAY
- The scientist
- viva la vida
KOOL AND THE GANG
- She's fresh
MURRAY HEAD
- Say it ain't so
- Never even thought
- One night in Bangkok
ROCKACCORDS
Plus de 330 morceaux rock et pop en grilles d'accords classés par artistes:
A - B - C - D - E - F - G - HI - J - K - L - M - N - O - P - Q - R - S - T - U - V - W - XYZ - High voltage - It's a long way to the top - The jack - Rocker - Rock'n'roll singer - TNT - You shook me all night long. Everything I do. Cryin' - Dream on - Dude (looks like a lady) - Same old song and dance. The house of the rising sun.
B
California girls - Good vibrations. Back in the USSR - Come together - Eleanor Rigby - Get back - A hard day's night - Help - Hey Jude - I want to hold your hand - Lady madona - Let it be - While my guitar gently weeps. Cause we've ended as lovers. Stayin' alive. Carol - Johnny be good - Memphis Tenessee - Roll over Beethoven. Louie Louie. Paranoïd. Call me She's caught the katy - Sweet home Chicago. It's my life - One wild night - You give love a bad name. Green onions. Let's dance - Ashes to ashes. A man's world - I got you, I feel good - Papa's got a brand new bag. Stop. Wuthering heighs.
C
After midnight - Call me the breeze - Mama don't - Somebody's knocking. Going up the country - On the road again. Give me one reason. Let's twist again. Le freak. Bad love - Blues power - Cocaïne - Crossroads - Double trouble - Further up on the road - Layla - Rambling on my mind - Wonderful tonight - Worried life blues. London calling - Police on my back - Rock the Casbah - Should I stay or should I go - The magnificent seven. Many rivers to cross. Unchain My heart. The scientist, viva la vida. Easy lover - I can't dance - In the air tonight. Only when I sleep. Zombie. Fortunate son - Proud Mary - Suzie Q. Rain - Revolution - Sweet soul sister. Boys don't cry - Close to me - Inbetween days.
D
Black night - Child in time - Lazy - Smoke on the water - Strange kind of woman - When a blind man cries. Lady writer - Sultans of swing. Long train running. Love me two times. All along the watchtower - Blowing in the wind - Highway 61 revisited - Knocking at heaven's door - Like a rolling stone - Main title - Man gave name to all the animals.
E
Heartache tonight - Hotel California - The long run. Sweet dreams. Bring me to life.
F
Go your own way - Don't stop. Do you feel like we do - Show me the way.
G
Here comes the flood. A million miles away - Shadow play - Should've learnt my lesson. I will survive. Fool no more - I could not ask for more - Looser two times - Momma don't cry.
H - I
Rock around the clock. I got my mind set on you. Never even thought - One night in Bangkok - Say it ain't so. Sunny. Hey Joe - Killing floor - Little wing - Red house - Wild thing. That'll be the day - It's so easy - Not fade away. I will always love you.
J
Billie Jean. We used to know. I love rock'n'roll. Honesty - Uptown girl. Candle in the wind - I'm still standing. Me and Bobby Mc Gee.
K
Dust in the wind. Stand by me. Nobody loves me - Rock me baby - The thrill is gone. In the court of the crimson king. You really got me. I was made for lovin' you. My Sharona. She's fresh. Are you gonna go my way - I'll be waiting - Stillness of heart.
L
Rock'n'roll - Since I've been loving you - You shook me. Imagine. Locomotion. Good golly miss Molly - Long tall Sally - Lucille - Tutti frutti. Call me the breeze ( voir J.J. Cale) - Free bird - Sweet home Alabama - T for Texas - Tuesday's gone.
M
This is the life. One step beyond - Our house. California dreamin'. Get up stand up - I shot the sheriff - No woman no cry - Redemption song. Bad news. Nothing else matters. Careless whispers. Beds are burning. Nights in white satin. Parisienne walkaways - Still got the blues. Resistance - Uprising.
N
Smells like teen spirit.
O
You're gonna go far, kid. Moonlight shadow. Pretty woman. Enola gay.
P
Johnny and Mary. Don't let it show - Eye in the sky. Another brick in the wall (part 2) - Brain damage - Breathe - Comfortably numb - The great gig in the sky - Hey you - If - The Nile song - Shine on you crazy diamond - Time - Us and them - Wish you were here. Only you. I'm so excited. Message in a bottle - Roxane - So lonely - Walking on the moon. Grown man crying blues - She said that evil was her name - Working class blues. Glory box. Blue swede shoes - Heartbreak hotel - Hound dog - It's now or never - That's allright mama. Don't get me wrong - I'll stand by you. Purple rain. A whiter shade of pale.
Q
The show must go on - We are the champions.
R
The road to hell. The dock of the bay - When a man loves a woman. Snow. Rock'n'roll - Romeo had Juliette - Sweet Jane - Walk on the wild side. Angie - Get off my cloud - Honky tonk woman - It's only rock'n'roll - Love in vain - Miss you - Under my thumb. Avalon.
S
Black magic woman - Blues for Salvador - Changes - Europa - Evilways - Flor de luna - I love you much too much - Samba pa ti - She's not there - The sensitive kind - They all went to Mexico. In trance - Still loving you. Old time rock'n'roll. No one is innocent - Seventeen. Runaway. Venus. Mrs Robinson. Don't you forget about me - Mandela day. Gloria - Free money - Kimberly. Because the night - Born in thev USA - Hungry heart - Spirit in the night - The river. Again and again - Caroline - Redhouse blues - Rocking over the world - Whatever you want. Wild world. Lily was here. The passenger. Always the sun - Golden brown - Midnight summer dream. Hot stuff. Breakfast in america - Crime of the century - Give a little bit - The logical song.
T
The big country. Shout. Ça c'est vraiment toi - Cendrillon - Flipper - Un autre monde. Choo choo mama - I'm going home. I don't want a lover - In my heart. Baby drives me crazy - Still in love with you. Legalize it. Hold the line. Get it on. Man, I feel like a woman - That don't impress me much. It's a heartache - Total eclipse of the heart.
U
Desire - I still haven't found what I'm looking for - Love rescue me - Pride (in the name of love) - Sunday bloody sunday. Lady in black.
V
La bamba. Little dreamer. Texas flood. Y.M.C.A. Be pop a lula.
W
Hoochie coochie man. Manu Chao. Throw down the sword - You got me runnin'. Ain't no love in the heart of the city - Walking in the shadow of the blues. Seven nation army. Baba O'Riley - My generation - Summertime blues. Black Jack - Illustrated man - Sugaree - The sky is crying.
X - Y - Z
Heart of gold - Hey hey my my - Like a hurricane - (Keep on) Rockin in the free world. Everytime you get away. Bobby Brown. Gimme all your lovin' - Sharp dressed man - Tush.